Bio - Long Story
Gayle Anderson-Gram
Gayle has always loved music & performing. Her parents say she was always humming and singing as early as they can remember. 
From Gloucester, MA (America's Oldest Seaport) she started in musical theater in Jr. High (touring Germany & France with her theater troupe in 1983 & 1985) and later touring & recording (2) albums with her Wheaton College a capella group - The Wheatones.
One day, while studying for exams in college, Gayle put on WUMB Folk Radio from UMASS Boston and was introduced to the music of Kate Wolf, Nanci Griffith, Chris Smither, David Wilcox, Lyle Lovette, John Gorka & many others. That day was life-changing.
After graduating with a BA in Biology in 1989, she & a college friend started a duo and frequented North Shore Massachusetts & New Hampshire open Mics.
Gayle & Bob met at one of those open mics in Salisbury, MA in February of 1990. The details of that story you will need to hear live....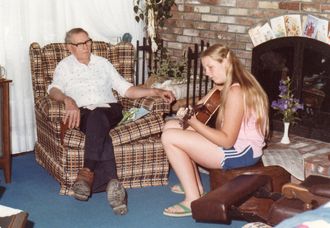 Bob Gram 
Born & raised in the Boston area, Bob did not start playing guitar until his Freshman year at the University of Maine-Orono in 1983. 
Upon attending the University of Massachusetts-Boston in the late 1980s, Bob first heard the school's radio station, WUMB and its 24 hour acoustic music format. He was hooked! 
This sparked an era of devotion & creativity which led to solo gigs and countless open mic appearances throughout New England. 
It was at one of these open mics in 1990 that he met Gayle Anderson.
Gayle & Bob (Anderson-Gram)
In mid 1991, both were no longer part of other duos & a friend suggested they do a song together at the Open Mic he was hosting in Dover, NH. 'These Times We're Living In' written by Kate Wolf was the first song they performed as a duo & they never looked back. 
They released their first CD, 'Watercolors' in 1995 containing 11 original tunes and, of course,'These Times We're Living In'. 
They started traveling quite a bit along the East Coast & Maritimes (Yarmouth Nova Scotia Seafest, Thomas Point Bluegrass Festival-Brunswick, ME, Music Americana-Washington, DC, Vanilla Bean Coffeehouse- CT) as well as venues in PA (Bethlehem Musik Fest), WV (Shenandoah Coffeehouse), TX (Uncle Calvin's Coffeehouse). 
They married in June 1997 & released their 2nd CD 'Where It All Begins' in 2001 - containing all originals except for one song (Give Yourself to Love) written by Kate Wolf. 
In 2003 they moved to Northern California. 
There, they have honed their craft in festivals (Kate Wolf Festival, San Francisco Folk Festival), farmers markets & small concert venues. 
In 2011 they released their 3rd CD, 'On This Ride'. It contains 6 Anderson-Gram originals and tunes by some favorite artists (Emmylou Harris, Johnny Cash, Nanci Griffith, Peter Gabriel). 
Continuing to perform in CA, OR & WA, they released their 4th CD, 'Cover To Cover' in 2013. This CD is a nod to some favorite tunes written by other artists. 
Since 2014, Anderson-Gram has been splitting their time performing on both coasts. Even though Massachusetts will always be "home", their home base is in Sacramento, CA.
July 15, 2019 was the long-awaited release of their 5th CD called, 'tides & embers'. 
"Singer/songwriters Gayle Anderson Gram and Bob Gram are a well-seasoned, artistically-polished folk duo. Their voices blend perfectly, and their sensitive guitar accompaniments are thoughtful, interesting, and balanced.  Anderson-Gram achieves a style of communication with the audience that is completely natural, and their clever lyrics and wit add to a very satisfying entertainment experience."  
Brad Slocum  
Program Director  
Music At Noon  
Westminster Church  
Sacramento, CA